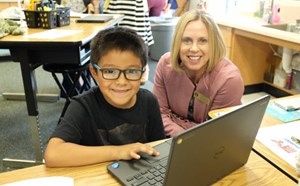 Students at Heritage Computer Science Academy impressed parents and administrators with their exceptional computer coding skills. The school is experiencing great success in its first year as an elite Code to the Future Computer Science Academy.
Principal's Message
Hello Heritage Families,
On behalf of the staff at Heritage Elementary, I am happy to welcome you to the 2018-2019 school year!  We are excited to be opening GGUSD's very first Computer Science Immersion Academy! 
Our teachers, staff and students have been getting ready for this launch and look forward to working with you to ensure that your children have the opportunity to excel in all academic areas with enhancement through technology.  We will be hosting trimester celebrations and hope that you will all be able to attend to observe all that your children have learned throughout the year.
We are extremely proud to announce that Heritage was awarded the Silver Medal for PBIS(Positive Behavior Intervention and Supports) implementation!  We are the first school in our district to receive the Silver Medal in their first year of implementation.  We celebrate with you and thank you for you continued support in the areas of scholarly habits, citizenship and positive behavior. 
Please consider joining our PTA.  Your child will greatly benefit from your involvement and contributions to our school's programs.  Stop by our office to find out how you can become more involved. 
Looking forward to incredible year!
Mrs. Pinchot
Principal
Our School
Salutations Heritage students and families! 
We would like to warmly welcome you into a new school year filled with productivity and personal growth. We proudly serve our 625 students by teaching them skills that are guaranteed to last a lifetime!
Our PTA is stronger than ever, with parents and staff meeting once a month to coordinate yearly events. Members run successful fundraisers, support family nights, field trips and assemblies. We are extremely grateful for all their contribution to our students' enriched educational experiences. Participating parents and staff chronically unite to emphasize the importance of community for our scholars.
Heritage's after school programs enforce life skills to teach students about global awareness. Here are our programs:
After School Intervention consists of teachers assisting students with homework and content pertaining to a certain subject area. This program assists those who need that extra help, so that they may go home ready and confident for exams and classwork. 
The College and Career Mentoring Program prepares sixth graders for the road to college. College mentors from the district come in and teach lesson plans covering emotional and academic life advice for these students. This program strives to educate students on the purpose of their education. Students are also given the chance to open up about matters in their life and the college mentors serve as positive role models.
Our Academic Pentathlon Team takes on academic challenges after school. Members compete with the district and county. Please come support our team during their competitions!
We hold the "Red Carpet Awards" after every trimester to celebrate students on their wonderful achievements! These achievements consist of grades and yearly goals that were met. The upcoming assemblies will be on April 13th and June 14th. Please come and join us for the celebration!
Heritage prides itself on being a Multi-tier System of Support School (MTSS). We are also happy to announce that we are a Positive Behavior Intervention and Support School (PBIS). We prioritize a healthy physical and emotional development for our students. Staff does this by ensuring that the class is a safe zone for all. This school year, we will be focusing on ensuring that these goals are met so that our scholars' school year is productive and memorable.
Thank you for visiting our site, and we look forward to having an amazing school year together!