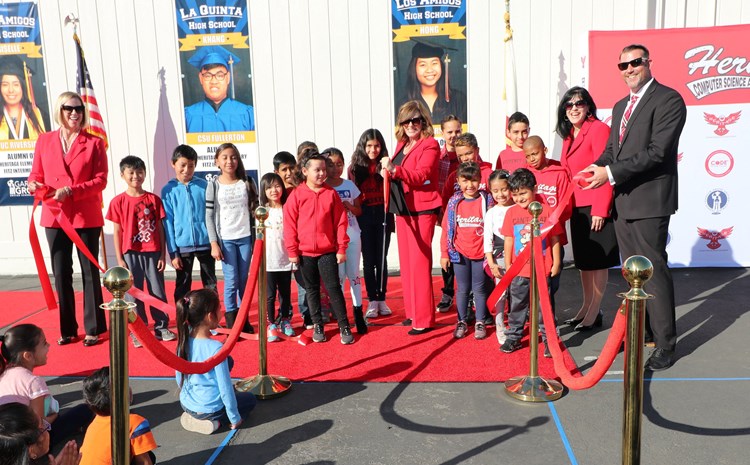 GGUSD Celebrates District's First-Ever Computer Science Academy
Wednesday, November 14, 2018
Hundreds of parents and students joined together yesterday to celebrate the successful start of Garden Grove Unified School District's (GGUSD) first-ever Computer Science Academy.  The Launch Party was held at the newly named Heritage Computer Science Academy, which opened this year, transforming the traditional elementary school into a 21st century academy infused with next generation technology and innovative instruction. 

Heritage Computer Science Academy joins an elite network of schools that have partnered with Code to the Future, an organization that is known as a national leader in developing computer science magnet schools. Code to the Future provided coaching, professional development, lesson guides, and the framework to help Heritage infuse technology into classrooms across all content areas.

"We pride ourselves on equipping students with the skills for lifelong success and computer coding is one of the most in-demand skills required in today's 21st century job market," said Bob Harden, Board of Education president.  "Knowing how to code will make students marketable to companies like Apple, Google, and the technology giants of tomorrow."

During the Launch Party, guests heard presentations from Board of Education President Bob Harden, Code to the Future CEO Andrew Svehaug, Principal Michelle Pinchot, Assistant Principal Chris Holland, and students. Elected officials and students helped commemorate the occasion by cutting a ceremonial red ribbon with giant scissors.   

"When the average employee at Google was my age, Google wasn't even invented. Now it's a part of our everyday life," said Heritage sixth grade student Andrea Valdovinos.  "Job opportunities change which means that education needs to change as well."

Principal Pinchot thanked the Board of Education for approving the program and the team at Heritage for their leadership in implementing the new technology lessons. Pinchot said that students are spending more time collaborating and helping each other with problem solving than ever before.

Thanks to the new program, by sixth grade, students will have mastered technology skills currently taught in high school and will be prepared to take the high school Advanced Placement Computer Science exam.

Following the ceremony, guests visited classrooms to see students in action, using code to develop their own video games and adventure stories.  Administrators also showed off the school's new Innovation Lab, with green screen technology, a 3D printer, maker-space STEM tools, and collaboration space for coding and robotics.