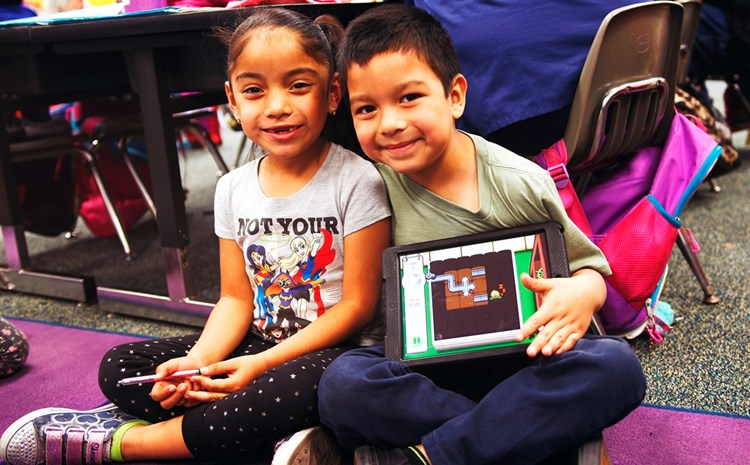 Heritage Elementary School Opens as a Computer Science Academy in 2018-19
Garden Grove Unified School District (GGUSD) has partnered with Code to the Future, the nation's premier creator of computer science immersion schools, to launch the district's first Computer Science Immersion Academy at Heritage Elementary School beginning in 2018-2019. 

All students who attend Heritage will be part of the Computer Science Immersion Academy, learning programming, robotics, coding, and other computer programming skills as part of their daily instruction.  

On March 8, Heritage hosted a special event to announce the academy program to families.  Parents and students enjoyed a barbecue, school-wide coding and an evening packed full of interactive STEM (Science, Technology, Engineering, and Math) activities.  

"Heritage Elementary School is already doing so much with technology.  This partnership will provide the school with new tools that have the power to inspire the next generation of computer programmers to fill jobs that have not even been imagined yet," said Bob Harden, Board of Education president.  "Together, students and teachers will explore the world of STEM like never before."

At its February 6 meeting, the GGUSD Board of Education approved the partnership with Code to the Future, an organization which has been recognized as a leader in Computer Science Magnet Schools by the White House. The program is designed specifically for students at the elementary school level and the curriculum integrates computer science across academic content areas and engages students in exciting project-based learning.

Students will also develop and strengthen core skills such as communication, creativity, critical thinking, in addition to 21st century skills that are projected to be in high demand in the near future.  Teachers will receive regular training resources and support in emerging technologies and STEM-centered instructional strategies.